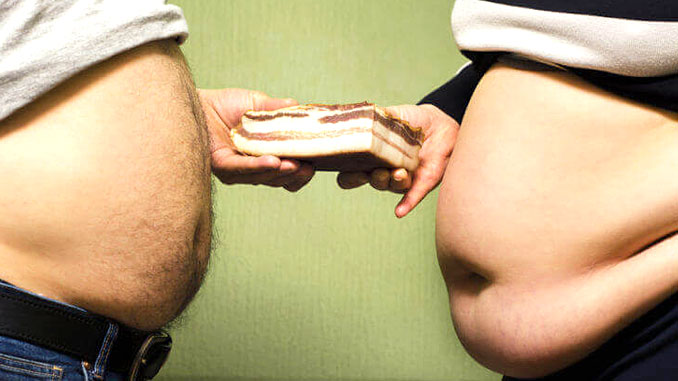 Tummy fat. Some of us have it, others don't. Is there anything special about a big belly compared to a large bottom? Well, surprisingly, not all body fat is created equal! According to a study carried out by researchers from MacMaster University, Hamilton, Ontario it seems that gauging your heart attack risk depends on where your fat is, rather that how much fat you have.
These types of findings are not unique to MacMasters. Dr David Heber, Ph.D., from UCLA's Centre for Human Nutrition reports that distribution of body fat is a more important predictor of heart attack risk than the traditional measurement of Body Mass Index (BMI), which is a measurement based on the ratio between your height and weight.
It appears that a more accurate predictor of the impact body fat has on your health, is your overall body shape. You may be more like an apple or a pear, or evenly shaped top and bottom. You may have large thighs, fat hips and a huge bum and have a lower heart attack risk than someone with skinny legs and a big belly.
A more accurate and telling predictor of heart attack risk, is the waist-to-hip ratio.
What is your waist-to-hip ratio?
Divide your waist measurement by your hip measurement. For example, if your hips measurement is 40 inches and your waist is 34 inches your hip-to-waist ratio is 0.85. If you are a man, that's great, if you are a woman, that's OK (but you are right on the limit of healthy).
– A man's ratio should not be over 0.90
– A woman's ratio should not be over 0.85
Don't fight nature
If you were born an apple you will stay an apple and if you were born a pear you will continue to be appear. Accepting your natural body shape is the first step in losing weight. In a study led by Glasgow, Scotland, psychologist Dorothy Hefferman, Ph.D., researchers concluded that women whose actual body shape differs from their desired one may find losing weight frustrating and have more trouble sticking to a weight-loss program as a result.
If this sounds like you, accept your overall shape as nature intended, but pay attention to reducing fat around your middle and tummy areas. Circumference is much more important to your health than how you look in relation to your bust and bottom.
Wipe Out Those Extra Pounds Through Weight Loss Tips
Do you feel embarrassed due to the extra pounds on your body? Are you not able to lose weight? Every person is working hard to lose that extra weight from body, but there is a need of proper guidance to achieve this goal.
Gaining weight is very easy but once you have gained weight it's even harder to lose the weight. Proper consultation is required to lose weight, as in the race of losing weight you may harm yourself. Controlling weight is as important as to lose weight.
Here are few dieting tips with which you can control weight: –
Consumption of more fruits, salads, and vegetables
Avoid use of butter and other fat enriched food
Fried food should be avoided
We all know that no two human bodies are same. Similarly, the fat burning process of every body is different and a planned methodology is required to earn the lost slim body. The metabolic rate of few people is higher than others. It's now possible to change metabolic rate of the body to lose extra pounds.
Exercise is an efficient way to lose weight. Exercise burns fat of our body. Regularly exercising can significantly changes your metabolic rate. It increases your heart rate and allows more blood circulation in the body. It allows you to burn more fats then consumed fats. After few days you can experience a remarkable change in your body. Morning walk is best to make your extra weight disappear.
You can make use of the underlying weight loss tips to lose weight: –
Drink as much water as you can. Water is the best remedy to stay away from being overweight. Replace your soda with water. Say no to junk food. Junk food prevents proper digestion process to work and in turn increases weight. Add boiled food to your diet.
Most of the fats can be removed by grilling the food. This makes the grilled food a healthy one to eat. A small portion of breakfast can prevent the temptation of eating more food between breakfast and lunch time. Eat less to prevent over weight. Try to have small portions of meal with some sort of gaps between them.
If still you are not getting any results then you can consume diet pills.
Diet pills are short term treatment for obesity and it limits your hunger to an extent. A number of diet pills are available in the market as: –
Phentermine
Adipex
Bontril
Didrex
Ionamin
Diethylpropion
Meridia
Phendimetrazine
Tenuate
Xenical
Phentermine is the most popular diet pill among these pills. These diet pills can easily wipe out your excess weight and make you stay healthier. Before the start of the treatment you should consult your doctor regarding each and every aspect of these diet pills.
Why Most of Your Diets Always Fail
Over the years, there has been millions and millions of people who have tried countless numbers of different diets to try and lose weight. Equally so, there has been millions and millions of people who failed at these diets. If all of these diets are supposed to be designed to make you lose weight, then why do most of them fail to do that?
Why is it that no matter what diet you try, it never seems to work? Perhaps the diet itself was no good. Maybe it was too expensive to stick with. It could be that there was no support. Possibly, it just seemed to take too long to lose weight.
The fact is, not one of those reasons is why most diets don't work. Surprised? Don't be. In reality, it all boils down to one simple yet complex reason. Yes, there is really only one thing that stands between you and your weight loss and that one thing is; your desire to eat was stronger than your desire to lose weight.
It may sound too simple and may be a little hard to swallow, the truth often is, but that, my friend, is the plain and simple truth.
The only real reason diets fail is because people decide to let themselves go back to their former eating habits rather than making the changes necessary to lose the weight and keep it off and maintaining those changes.
Dieting is a long and oftentimes difficult journey that must be done step by step, little by little. There can be and often are all kinds of setbacks and pitfalls that can trap you, particularly during an endeavor that takes so much time and effort. Just one slip, one temptation given in to, and your whole struggle for weight loss can be sabotaged.
In order for any diet to be successful, it must have a strong foundation. With a strong foundation, it will be a bit easier to hold your ground when those little pitfalls come along to tempt you. There also must be a solid plan.
Without a good, solid plan, you will just be grasping at straws and going in all different directions. You need a plan to help guide you in the right direction at all times.
One thing that has helped many people who were successful with their diets was having the support of family members and friends. This can be a major asset that can help you stay with it.
Probably the most important thing to remember is, never starve yourself, make sure you make room to eat the foods you like from time to time and make a little time for some moderate exercise. Your diet does not have to fail, and with a little help from you, it can succeed and that means, you can succeed.